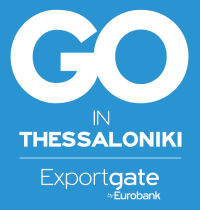 The 8th Business Delegation of the Go International Business Delegation Programme, Go in Thessaloniki 2018, took place in Thessaloniki, Greece, on 12-14 November 2018. Thessaloniki was chosen to host the event as Greece's economic, industrial and commercial metropolis of the North, as well as a key transportation hub for SE Europe.
3,000+ B2B meetings
During the 3-day event, Greek exporting companies had the opportunity to meet with prominent international buyers through more than 3,000 B2B meetings and lay the foundations for mutually beneficial relationships.
The Business Delegation was enriched with a number of side activities and events.
14 banking groups from 50 countries
Top executives from 14 international banking groups located in more than 50 countries participated in the event.
As members of the global Trade Club Alliance network, the banking groups also represented 80 foreign companies during the B2B meetings, through the Trade Corridor service.
Supported by leading Greek organisations
Go in Thessaloniki 2018 is under the auspices of the Ministry of Foreign Affairs and is co-organised with all major Export Associations of Greece (Panhellenic Exporters Association-PEA, Greek International Business Association-SEVE and Exporters' Association of Crete-EAC), as well as Hellenic Federation of Enterprises-SEV, and Greek Tourism Confederation-SETE. Go in Thessaloniki 2018 is supported by Banco Santander, one of the largest and most significant banking groups worldwide.
See related press articles (in Greek)